If you have recently been thinking of upgrading your TV to a newer model, you might be wondering if you should buy the Hisense or Sharp. In this article, we explore the features of both TVs and compare them side-by-side in order to answer that question.
About Hisense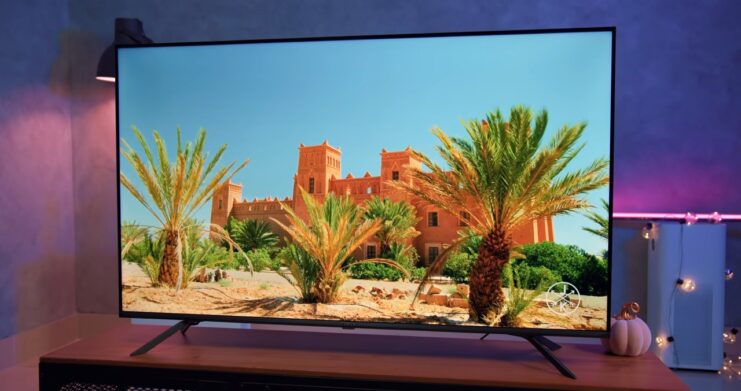 Hisense is a Chinese multinational white goods and electronics manufacturer headquartered in Qingdao, Shandong Province, China. It is an international corporation with over 80,000 employees and it is the largest television manufacturer in China for the last 18 years.
It has manufacturing facilities in South Africa, the Czech Republic, Mexico, and China.
In 2015, Hisense acquired a majority stake in Sharp Corporation in Mexico. This gave Hisense access to Sharp's advanced LCD technology and helped his company become one of the first Chinese manufacturers to produce LCD TVs. Today, Hisense offers a wide range of televisions, from entry-level models to high-end 4K HDR TVs.
About Sharp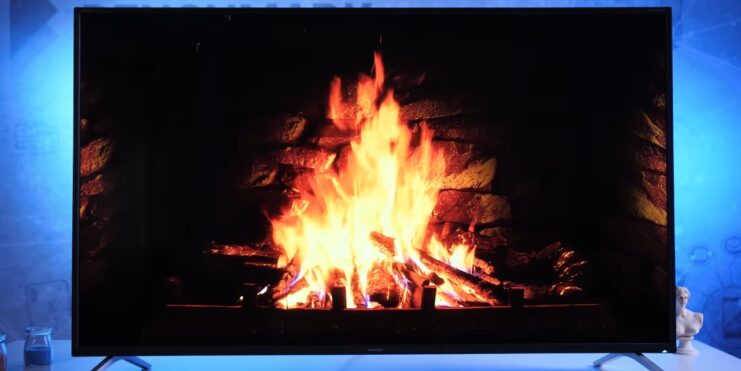 Sharp is a Japanese electronics company that manufactures a wide range of electronic products, including televisions. It was founded in 1912 and has a long history of innovation in the electronics industry. Sharp is known for its high-quality products and cutting-edge technology.
Its TVs are no exception, with features like 4K resolution, HDR10+, and Dolby Vision support. Sharp also offers a wide range of sizes to choose from, so you can find the perfect TV for your needs.
Since 2016 it has been a subsidiary of the Taiwanese electronics company Foxconn. As of 2013, Sharp Corporation is the tenth-largest, by market share, television manufacturer in the world.
Hisense VS Sharp
Hisense and Sharp are both well-known brands that offer high-quality TVs. However, there are some key differences between them.
For one, Hisense offers a wider range of TV sizes than Sharp. So, if you're looking for a specific size TV, this brand is likely to have what you're looking for.
Sharp TVs tend to be more expensive than Hisense TVs. However, they also offer features that Hisense doesn't, such as 4K resolution and OLED technology. On the other side, Sharp TVs come with 3D technology and Wi-Fi capabilities which make them perfect for movie watching or gaming. Their interfaces are also sleek and user-friendly. However, they do not have a built-in free HDTV tuner like Hisense does.
So, which brand is best? It really depends on your needs and budget. If you're looking for a cheaper TV, Hisense is a great option. But if you want the best possible picture quality, Sharp is the way to go.
But, before we decide let's take a look at their features compared. We will use two models – Hisense 55 inches 4K Smart LED TV and Sharp 55 inches Aquos 4K UltraHD Smart LED TV.
| | | |
| --- | --- | --- |
| | Hisense 55H8C | Sharp LC-55N7000U |
| Screen size | 54.6″ | 54.6″ |
| Resolution | 3840 x 2160 px | 3840 x 2160 px |
| Backlight type | Direct LED | Edge LED |
| Refresh rate | 60 Hz | 60 Hz |
| Response time | 8.5 ms | 8 ms |
| Smart | Yes | Yes |
| Speakers | 2 x 10 W | 2 x 10 W |
| Dimensions | 48.6 x 28.2 x 3.3 inches | 49 x 28.3 x 2.5 inches |
| Weight | 33.1 lbs | 47 lbs |
Features Comparison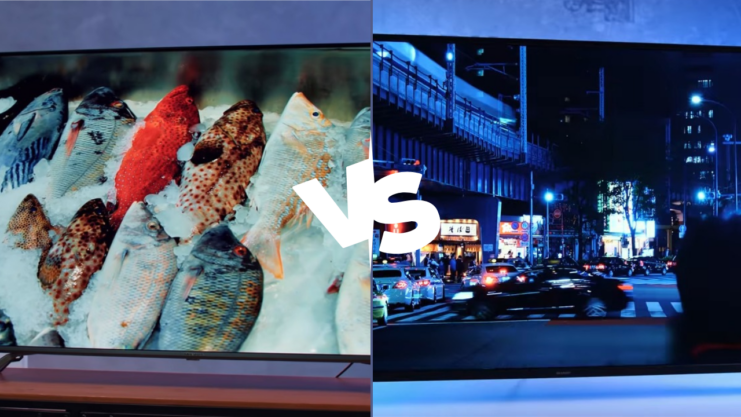 Here is a comparison of some key features between the two sets:
TV Size and Screen Size
Hisense: It offers a wide range of TVs in different sizes, from small 32-inch models all the way up to massive 75-inch behemoths. And as for screen size, Hisense TVs start at 28 inches and go up to an impressive 65 inches. So no matter what your preferred TV size is, Hisense has you covered.
Sharp: It also offers a diverse selection of TV sizes, from 32-inch models to 70-inch giants. And like Hisense, they offer a variety of screen sizes for their TVs, starting at 28 inches and going up to 64 inches.
Price Comparison
When it comes to comparing the prices of the two brands, there are a few things to keep in mind. First, Hisense offers a wider range of pricing options than Sharp. Second, while both companies offer discounts and promotions on their TVs, Hisense typically offers more aggressive pricing than Sharp.
Hisense's entry-level 43″ 4K Ultra HD Smart LED TV is priced at just $330, while Sharp's 43″ 4K Ultra HD Smart LED TV starts at $430. Hisense also offers a 50″ 4K Ultra HD Smart LED TV for $370, while Sharp's 50″ 4K Ultra HD Smart LED TV is priced at $480.
If you're looking for a larger television, Hisense offers a 65″ 4K Ultra HD Smart LED TV for $730, while Sharp's 65″ 4K Ultra HD Smart LED TV starts at $880.
Based on these prices, it appears that Hisense offers better value than Sharp. However, it's important to keep in mind that price isn't the only factor to consider when choosing a new TV. Be sure to read reviews and compare features to find the best television for your needs.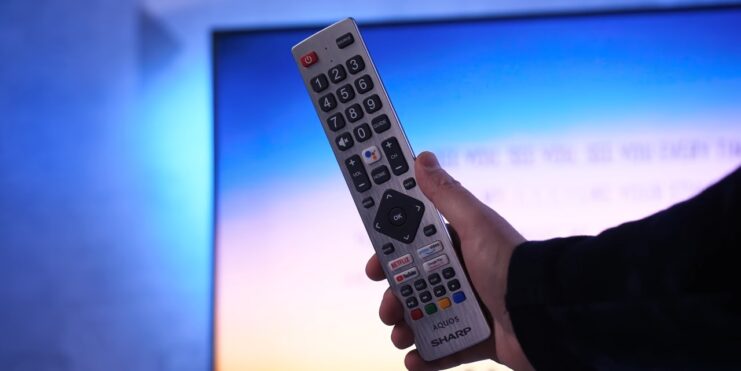 Resolution
The biggest difference between these two brands is that Hisense offers lower-resolution screens while Sharp offers higher ones. If you're looking for something with a high-resolution screen, then the Sharp models should be your top pick.
Sharp TVs come with 4K Ultra HD resolution as standard, while Hisense TVs start at Full HD. As such, if you're looking for the best possible image quality, Sharp is the way to go.
However, it's worth noting that Hisense TVs do offer upscaling to 4K, so they can still deliver a great picture even if you don't have a native 4K source.
In terms of HDR, both brands offer excellent options. Sharp's Quattron Pro technology delivers great contrast and color reproduction, while Hisense's ULED panels are some of the brightest on the market.
Ultimately, both Sharp and Hisense offer great resolution options. If you're looking for the absolute best picture quality, Sharp is the way to go. However, if you're working with a limited budget, Hisense offers excellent value for money.
FAQ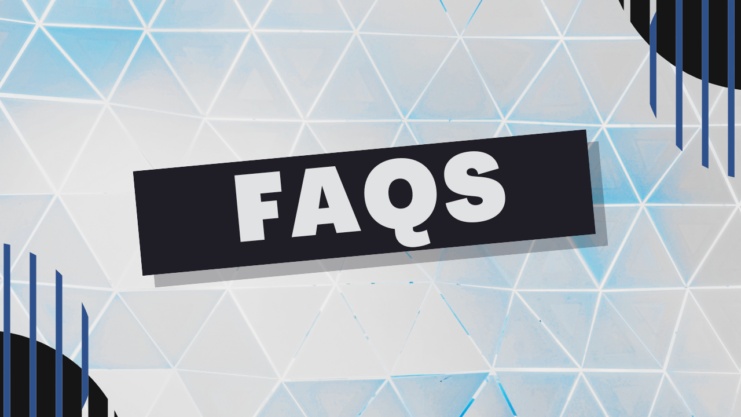 1. Is Sharp TV owned by Hisense?
Yes, as of 2019, Sharp TV is officially owned by Hisense Corporation. This move was made in order to help improve their overall product lineup and to better position them for future growth opportunities. The decision was made after careful consideration and analysis of their current market situation and future prospects.
2. Is Hisense a high end brand?
Their products typically focus on budget-friendly prices and quality. However, this does not mean that their electronics are of low quality. In fact, many of their higher-end devices are some of the best on the market.
One example is the Hisense H8C Pro television set. This television is one of the more expensive options on the market, but its features make it worth the investment. It has a 5120 x 2880 resolution display, which is higher than most other sets at this price point. Additionally, it has a 4K color reproduction capability and an ultra-wide viewing angle for ultimate picture quality.
Another high-end device from Hisense is the X1 Extreme smartphone. This phone was released in early 2018 and features some impressive specs for its price point. For one, it has a 6GB of RAM and 128GB of storage.
This allows users to store plenty of media files and other important data without running out of space quickly. It also has a range of cutting-edge features, including a dual rear camera system and an AI face recognition feature that can recognize more than 1 million different faces.
3. How long do Sharp TVs last?
The average lifespan for a Sharp TV is about 5 to 7 years. However, there are some factors that can affect the longevity of a Sharp TV and its ability to operate properly. Some common causes of TVs going out early are due to accidents (like dropping them), water damage, power surges, and natural disasters like tornados or hurricanes.
4. Where is Sharp TV made?
Sharp is a Japanese consumer electronics company founded in 1966. The company produces TVs, monitors, and other electronics products. Sharp manufacturing facilities are located in the following countries: Japan, China, Taiwan, Thailand, India, and Indonesia.
Conclusion
If you're looking for an affordable television with great picture quality, then Hisense might be a good option for you. However, if you're looking for something that will stand out and give your home entertainment a unique edge, then the Sharp model may be better suited. Ultimately it comes down to what features are important to you and which ones are not.
If you already have a perfect TV in your home and you want to watch something on it, we suggest you read our review of Horror Hotel movie.