Looking for the best outdoor TV antenna for rural areas, but aren't sure which one would suit your needs best? Don't worry, we're here to help!
Identifying the best antenna can take a lot of time and effort, especially if it's your first time purchasing one. You're probably worried about making a wrong choice and ending up with a product that won't work as well as you hoped. That is why we're here to provide you with some of the best options on the market, but that's not everything!
We'll also provide you with a summarized buying guide that will make choosing an antenna a piece of cake at any time! Once you read our article, you'll be able to pinpoint the perfect antenna like a real professional.
Top Choices For Rural TV Antennas
1. PBD WA-2608 Digital Amplified Outdoor HD TV Antenna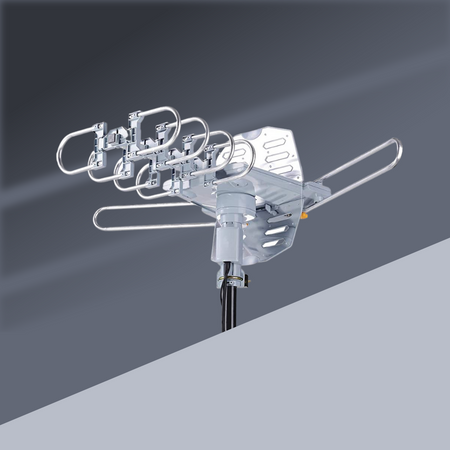 We'll start our list of the best outdoor TV antennas for rural areas with the PBD antenna that is extremely high-quality and very well made. This antenna features 150 miles log range and has dual TV outputs. The antenna supports 720p, 1080p, 1080i, and 4K.
You can use it with two TVs at the same time without a splitter required. There are also no special adapters necessary to make it work. What's great about this antenna is that it is extremely easy to use, and you don't need any additional tools or equipment to install it. It features a snap-on installation and comes with an easy-to-follow manual that will make installing it feel like a breeze!
There is a built-in high gain and low noise amplifier, as well as a coaxial cable, included in the package, so you'll be able to place it and get the best reception instantly. The antenna is also weather-resistant, which makes it great for outdoor use.
It's lightning protected, durable, and features an excellent design. If you're wondering what else you will receive in the package, take a look at the list below to find out:
PBD outdoor antenna
Wireless remote
Power supply adapter
Coaxial cable
Mounting pole
Pros
Well made
Dual outputs
Easy to install
2. GE Home Electrical Antenna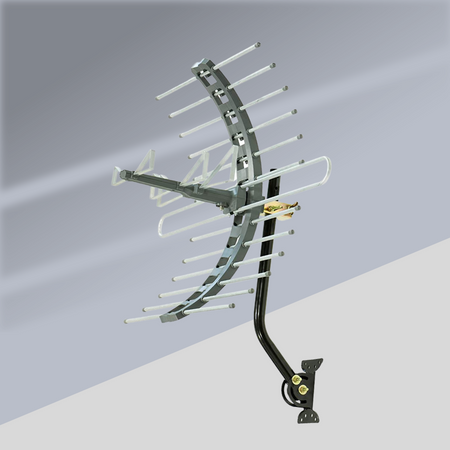 The next one on our list is the GE Home Electrical antenna which is perfect for rural and suburban areas! This antenna is weather-resistant, so it is excellent for outdoor use. You can install it outdoors or in your attic without breaking a sweat.
You can look forward to receiving 1080p and 4K reception for up to 70 miles. Receiving free local news and sports broadcasts, along with HD channels including PBS, ABC, and NBC is easy with this antenna, and what's best, you can do so while cutting out the expensive cable or satellite bill!
This antenna can also provide VHF, UHF, and HD signals to more than one TV in your home. However, you will need a splitter and a coaxial cable to accomplish this. Here's what's included in the package:
Mounting bracket
J-mount
VHF dipoles
UHF elements
Signal-enhancing reflector rods and bracket
Instruction manual
Pros
Weather-resistant
Great quality
Durable
Cons
Difficult-to-read instruction manual
3. Five Star Outdoor Digital Amplified HDTV Antenna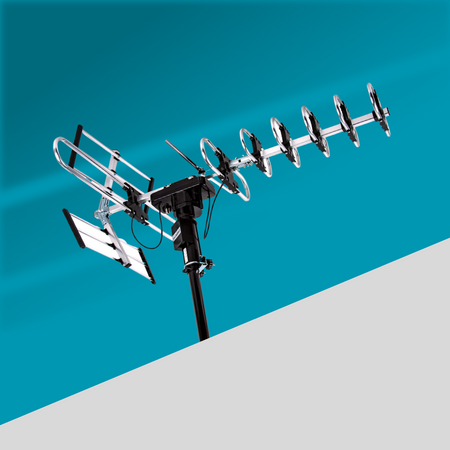 We'll continue with the Five Star antenna that can reach up to a 200-mile range! If you're on a search for a high-quality antenna that provides high-quality resolution, this one's a perfect choice.
The Five Star antenna provides you with high-quality 4K, 1080p, 1080i, and 720p for local free channels, as well as local news, sports programs, and weather. It can support not one, not two, but even 5 TVs in your house! It also supports FM radio broadcasting. The upgraded high-gain booster provides you with a high-quality HDTV.
With the premium quality copper cable inside the motor, you can expect a shielded and more stable signal transmission at all times. The LTTE filter will remove any interference from the phone signal and guarantee a high-quality DTV/VHF/UHF image.
There is also a built-in all-directional feature with 360-degree rotation that will help you reach a wider area with a click of a button. That is how you will be able to reach more choices when it comes to your favorite HDTV channels located in your area. This is what is included in the package:
Five Star antenna
Coaxial cable
4-way splitter
15pcs cable clips
J pole
Pros
Supports 5 TVs
Stable signal transmission
360-degree rotation
Cons
The antenna is rotating too fast
4. PBD Outdoor Digital Amplified HDTV Antenna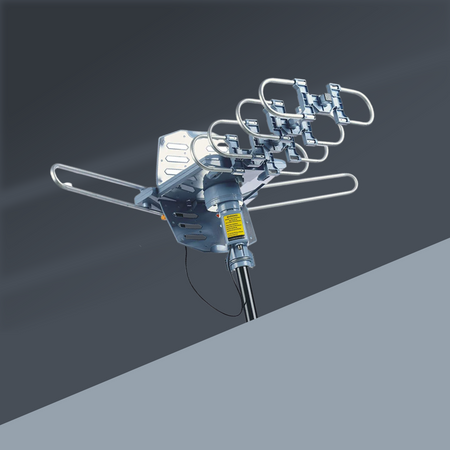 If the first PBD antenna we listed wasn't exactly what you were looking for, we have another PBD one in store for you! This one is also 150 miles one, and it features dual TV outputs, which means that you can connect two TVs with ease without a splitter or special adapters necessary. What's great is that this one supports 720p, 1080p, 1080i, as well as 4K.
The frequency of this antenna is as follows: VHF 170~230MHz | UHF 470~860MHz. You can receive free digital broadcast TV signals at any time with this antenna! It's highly durable considering that it is weather-resistant and built with high-quality materials that make it lightning protected, so you don't have to worry about safety at all. The user-friendly instructional manual that comes with it makes installing it super easy. Here's what else you can expect to get:
Antenna
Wireless remote
Power supply adapter
59FT coaxial cable
Coaxial grounding block
Pros
Dual TV outputs
High-quality
Easy to install
5. Five Star Outdoor HDTV Antenna up to 200 Mile Long Range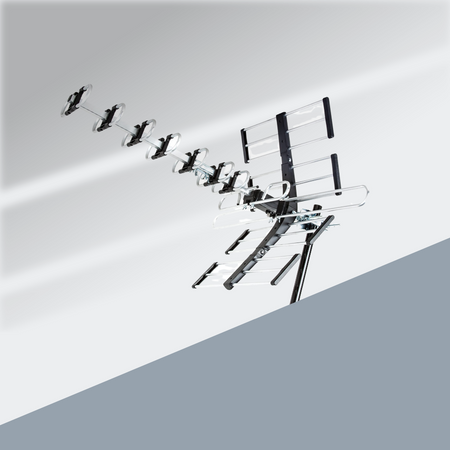 If you thought the previously-mentioned Five Star antenna is the only one we have in store, we're happy to tell you it's not! This multi-directional outdoor antenna can receive 1080p and 4K reception for up to 200 miles.
It has superior reception for both UHF and VHF signals, and it helps you cut your expensive cable and satellite bills in half! You can not also enjoy its great quality, but look forward to not breaking the bank when the bills come.
You can watch shows, live sports, and local news and weather whenever you want, and you can also look forward to the antenna providing the signal to multiple TVs in your home! This does require having a TV splitter, though.
The antenna is made to last and to provide a more stable and strong signal reception than the other ones on the market. It's very well made and highly durable, so you don't have to worry about it malfunctioning after a short period of time. Take a look at the list below to see what is included in the package:
Antenna
Mounting bracket
J-pole
TV splitter
Instructions
Pros
Multi-directional
Sturdy
Great craftsmanship
6. Amazon Basics HDTV Digital Amplified Outdoor TV Antenna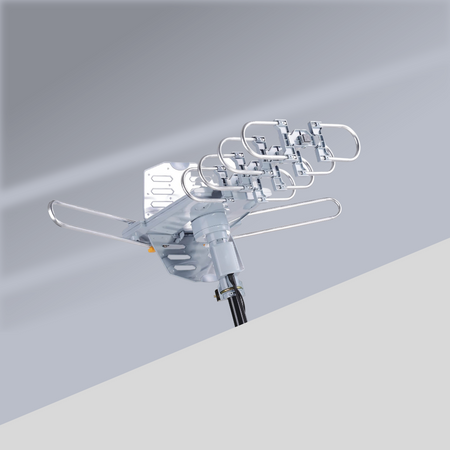 The last one on our list of the best outdoor TV antennas for rural areas is the McDuory antenna which features a 150-mile-long range. It also features dual TV outputs and supports 720p and 1080p. The working frequency of this antenna is VHF 170~230 MHz and UHF 470~860 MHz.
Receiving free digital broadcast HDTV signals has never been easier! What's great about this antenna is that it can support two TVs at the same time, and you won't even need a TV splitter to accomplish it!
The installation is tool-free and very easy with the snap-on elements. You can also look forward to receiving a user-friendly guide that will walk you through installing this antenna in the blink of an eye.
Since it is weather-resistant, the antenna is very durable and lightning-protected. That makes it an excellent choice for rural areas, as well as tough outdoor weather conditions.
Pros
Dual TV outputs
Tool-free installation
Weather-resistant
Buying Guide – Choose The Right One For Your Needs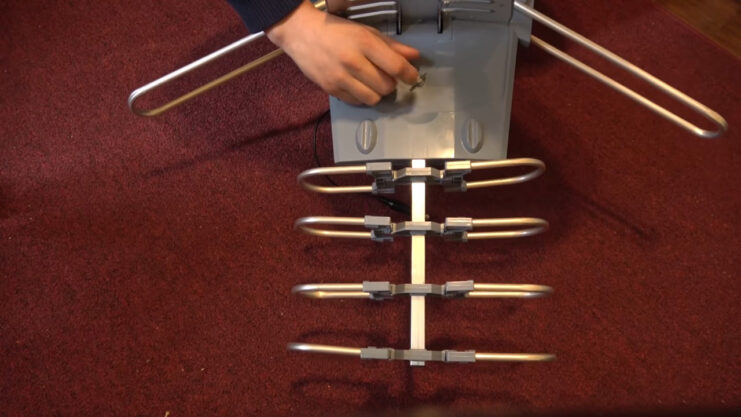 Purchasing an antenna can often be difficult and time-consuming, especially if you aren't sure what to look for when choosing one. Debating whether the one that caught your eye would be a good choice or not can be quite frustrating.
We know that wasting time and money is no one's idea of a good time, and that is precisely why we compiled an easy-to-follow buying guide to make matters easier.
Once you read our guide and learn about what factors you should consider when choosing the best TV antenna for rural areas, you'll be able to make your choice hassle-free and in no time! Here's what you should pay attention to:
1. Range
The first and most important factor to consider when it comes to antennas is the reception range they offer. The reason why the range is important is that the farther the transmitter tower is from your house and location, the more likely you'll need an outdoor or amplified antenna.
These antennas usually provide a wider and longer range than those that are made for indoor uses when the tower is closer to your location.
Since you're on a search for an antenna for a rural area, you should make sure that the one you want to purchase features a reception range that will work perfectly for your needs. This info is typically found in product descriptions, so double-check it before purchasing the product.
2. Quality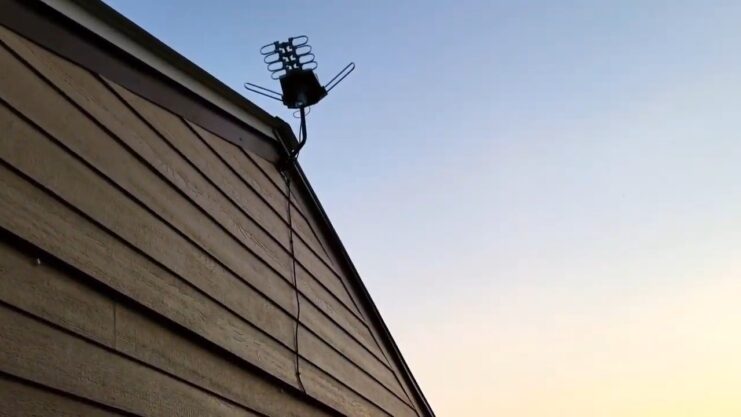 The next thing to consider is the quality of the antenna you're purchasing. Quality is extremely important when it comes to antennas for rural areas and outdoor use because they need to be able to withstand tough weather conditions at all times. That means that the antenna you want to buy needs to be weather-resistant and highly durable.
It should be made of premium-quality materials that will make it last for a long time and not malfunction or break during extreme weather conditions. Checking product descriptions and/or customer reviews to find this info is a must.
3. Accessories
The final thing you should factor in when choosing the best antenna for rural areas is accessories. Installing your antenna can be a very difficult task if you don't have the necessary equipment and/or tools. That is why you need to make sure that the antenna you're purchasing is easy to install, and that all the required tools, accessories, and equipment is included in the package.
If you can find those details by checking product descriptions, take a look at customer reviews to see what they have to say about the product and whether they received the needed equipment.
FAQs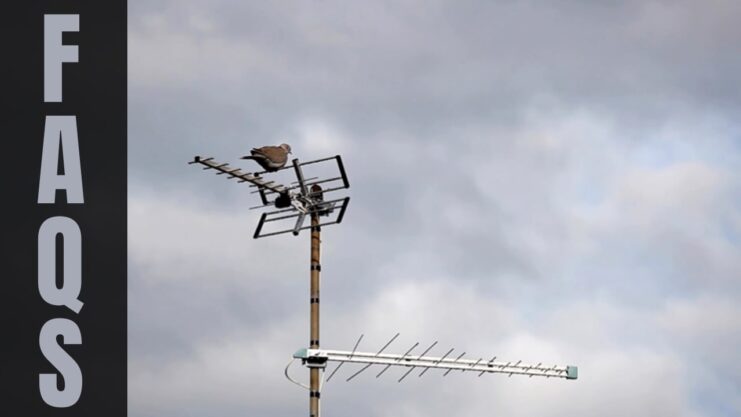 1. Should I Get an Amplified or Non-Amplified Antenna?
Whether you should get an amplified or non-amplified antenna depends on where you're planning to use them, as well as how. Although getting an amplified antenna can improve the signal, it's not always the best option.
It's true that having this type of antenna is useful if you're looking to split the signal from one to feed two TVs. Take some time to reevaluate which TV is better, Hisense or Sharp. However, amplifying noise and distortion, as well as overloading reception from closer stations can also happen.
2. Can I Improve My Antenna Signal?
Yes, there are a few ways to improve your antenna signal. One of the most common ones is finding out where the transmission tower is in your area, then moving the antenna and pointing it in the direction of the tower. You can also place your antenna near the window to get a better signal reception.
3. What Is the Best Outdoor Antenna?
There is no shortage of different brands and models of antennas to choose from. Some of the most popular ones are the Five Star antennas and the PBD ones.
However, you can find a wide range of different brands that also provide you with high-quality antennas. You should always make sure to consider the factors we listed in our buying guide prior to purchasing one, though.
Conclusion
Buying the best outdoor TV antenna for rural areas doesn't have to be difficult! Although choosing the right one in a sea of options can seem challenging, there are ways to make the process much easier and avoid wasting time and money purchasing and returning the product.
One of the best ways to ensure this doesn't happen is to know what to look for prior to purchasing the antenna. You can find all the necessary info in our buying guide, so there's no reason to spend an eternity looking for info elsewhere! The best part is that reading our buying guide and acquiring the needed info won't take more than a few minutes!